Must the Cubs Win the World Series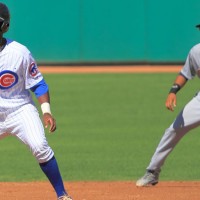 The Cubs are light years away from pitchers getting asked about the trade deadline as soon as they report to spring training, or managers sitting on the hot seat, or prospects becoming overloaded with attention to distract everyone from the awful big-league product.
Year 5 of the Theo Epstein administration began on a beautiful, 75-degrees-and-sunny night in Southern California, with fireworks, a flyover and a sellout crowd (44,020) at Angel Stadium of Anaheim. But anxious Cubs fans, the build-'em-up Chicago media and all those national experts can't fast forward to October.
There is still more than 99 percent of the season left to play after Jake Arrieta again looked like a Cy Young Award winner while dominating the Los Angeles Angels during Monday's 9-0 victory. Read more at http://www.csnchicago.com/.