Pardes Still Have Not Scored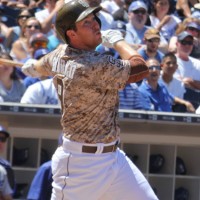 The early days of the baseball season are fun ones, because the smallest streak projects out to historical greatness. Rockies rookie Trevor Story is the first player in baseball history to homer in his first three games, and will surely finish his year with 216 dingers. Starlin Castro now owns the record for most RBI in his first two games as a Yankee—seven, surpassing the immortal Todd Greene—which projects to 567 on the season. And then you've got the Padres.

Solidly in last place, both in the actual standings and in the much more important small-sample-size Olympics, the San Diego Padres were shut out by the Dodgers in their first three games. That's an MLB record, surpassing the old mark of 26 innings set by the 1943 St. Louis Browns.
Read More on Deadspin